Chicken Pad Thai
Pad Thai is now easier to make than ever with Annie Chun's Pad Thai Rice Noodles and Pad Thai Sauce. Authentic, flavorful and absolutely delightful for the entire family.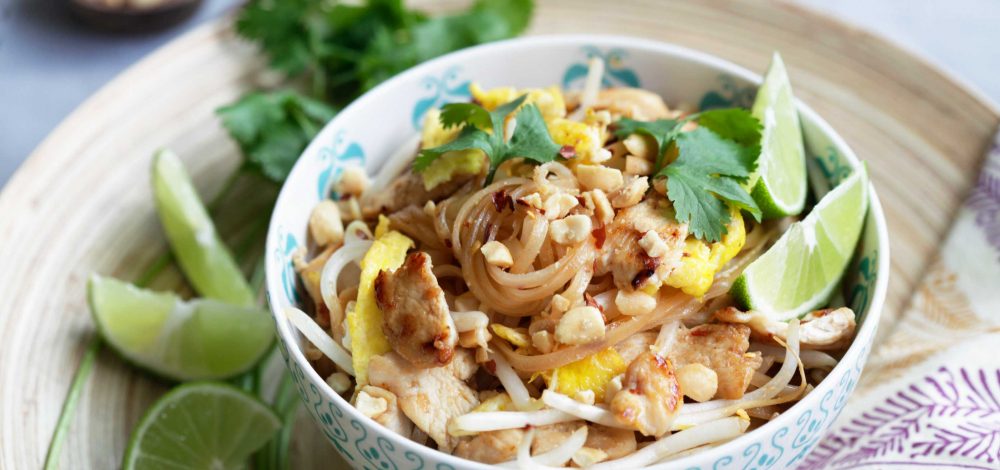 Recipe Serves
4
Minutes Prep
15
Minutes Cook
10
Total Minutes
25
Difficulty: medium
Ingredients
8 oz. chicken breast
2 tablespoons oil
2 large eggs, beaten
4 cloves garlic, minced
¼ cup + 2 tablespoons
2 tablespoons sugar
8 oz. bean sprouts
2 tablespoons crushed peanuts
1 teaspoon red pepper flakes
1 tablespoon cilantro
1 lime, cut into wedges
Method
Soak the Annie Chun's Pad Thai Rice Noodles in hot water for 10 minutes or until tender. Drain and rinse under cold water and set aside. Slice the chicken breast into bite-sized pieces.
Heat up a skillet with ½ tablespoon oil on medium heat. Gently pour in the beaten egg and fry until it starts to set, about 30 seconds. Flip the egg over and continue to fry until it's all set and cooked through. Use a spatula to break up the egg into small pieces. Remove from the skillet and set aside.
Add the remaining oil into the skillet. Add the minced garlic and sauté until light brown. Add the chicken, cook until the surface turns white and chicken is cooked through, followed by the Pad Thai noodles.
Add Annie Chun's Pad Thai Sauce, sugar and stir to mix well with the noodles. Add the bean sprouts and eggs and cook for 30 seconds. Top the noodles with crushed peanuts, red pepper flakes, cilantro and lime wedges. Serve immediately.