Cashew Curry Udon
Boil, stir-fry, and enjoy!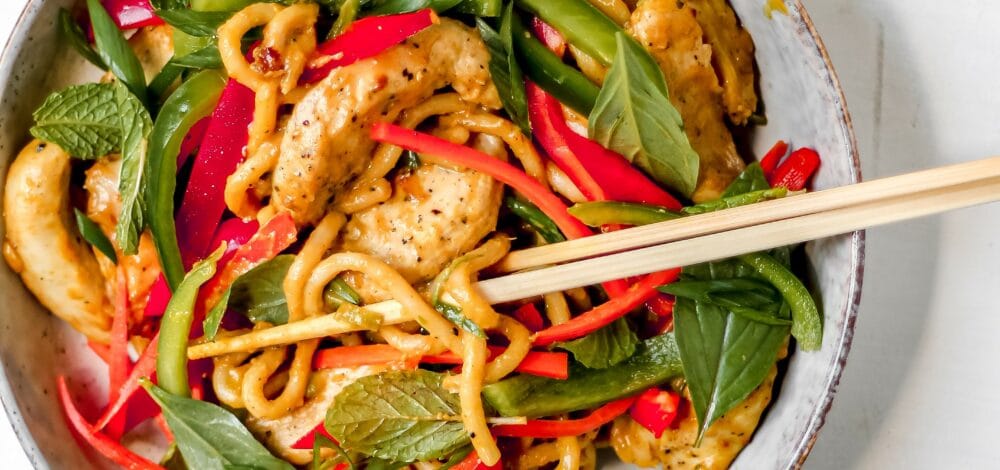 Recipe Serves
1
Minutes Prep
5
Minutes Cook
15
Total Minutes
20
Difficulty: easy
Ingredients
1 red bell pepper, cored, de-seeded & sliced into ½ inch strips
4 or 5 sprigs fresh Thai basil
4 or 5 sprigs fresh mint
1 lime
1 tsp olive oil
½ cup shredded carrots
1 package Annie Chun's Udon Noodles
3 scallions, thinly sliced with white & green parts separate
Salt & pepper to taste
Cubed chicken or tofu, seasoned with Japanese Curry Powder (optional)
For the Cashew Curry Sauce:

¼ cup coconut milk
2 tbsp cashew butter
1 tbsp tamari or coconut aminos
1 tbsp water
½ tbsp toasted sesame oil
1 tsp maple syrup
1 tsp freshly squeezed lime juice
1 tsp sambal oelek, or to taste if spice-averse
1 tsp Madras Curry Powder or Japanese Curry Powder
1 clove of garlic, minced
1 tsp minced ginger
Method
Combine sliced red bell pepper, leaves of Thai Basil, mint, 1 tsp lime juice, olive oil, and shredded carrots. Toss and season to taste with salt & pepper. Set aside.
Boil Annie Chun's Udon Noodles for two minutes, drain and rinse, then set aside.
In a heated saucepan with a drizzle of oil, add the white parts of the scallions and cook protein, if using. Once the protein is cooked and scallions have softened, add the Udon Noodles and Cashew Curry Sauce and toss to combine. Simmer for a few minutes, until the sauce is slightly thickened.
Serve with the herb salad and garnish with green parts of scallions.