Butternut Squash Coconut Noodle Soup
Butternut squash and coconut milk come together for a velvety, light soup that will warm you right up.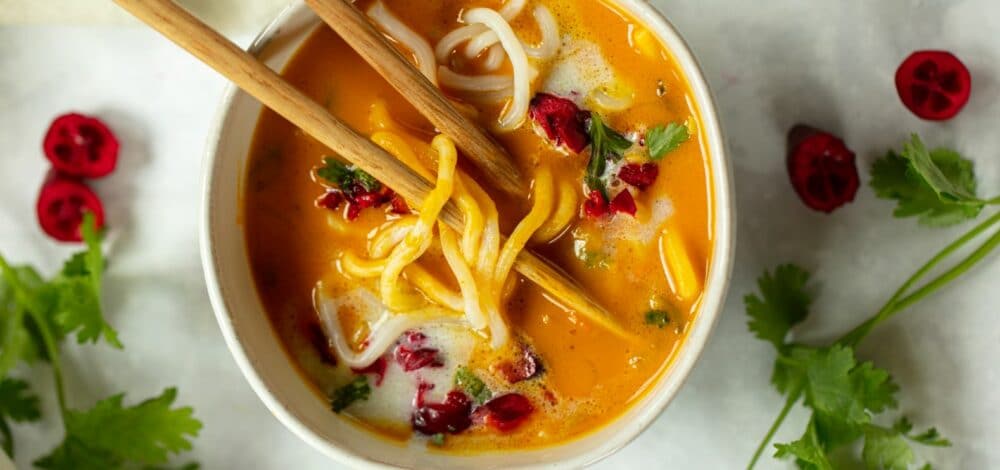 Recipe Serves
4
Minutes Prep
10
Minutes Cook
8
Total Minutes
18
Difficulty: easy
Ingredients
½ cup fresh cranberries
¼ cup fresh cilantro
2 packs Annie Chun's Thai-Style Coconut Soup Bowls
1 tablespoon vegetable oil
1 shallot, thinly sliced
2 teaspoons curry powder
½ teaspoon salt
2 cups butternut squash puree
½ cup water
1 ½ cups unsweetened canned coconut milk
¼ cup unsweetened coconut cream
Method
Pulse the cranberries and cilantro in a food processor about 10 seconds, just until the cranberries are coarsely chopped. Set aside.
Empty the soup base packets and dry toppings into 2 separate small bowls.
Heat the oil in a medium saucepan over medium-high heat. Add the shallot and cook until softened, 2-3 minutes. Stir in the dry toppings, curry powder, and salt and cook for 30 seconds.
Add the butternut squash puree, water, coconut milk, and soup base.
Bring to a simmer, then lower the heat and cook 3 minutes. Turn off the heat and stir in the noodles.
Divide the noodles and soup into 4 bowls Top each bowl with about 1 tablespoon coconut cream and cranberry relish.
Recipe courtesy of Familystyle Food