Black Bean Udon Stir Fry
A quick and easy recipe you can add to your list!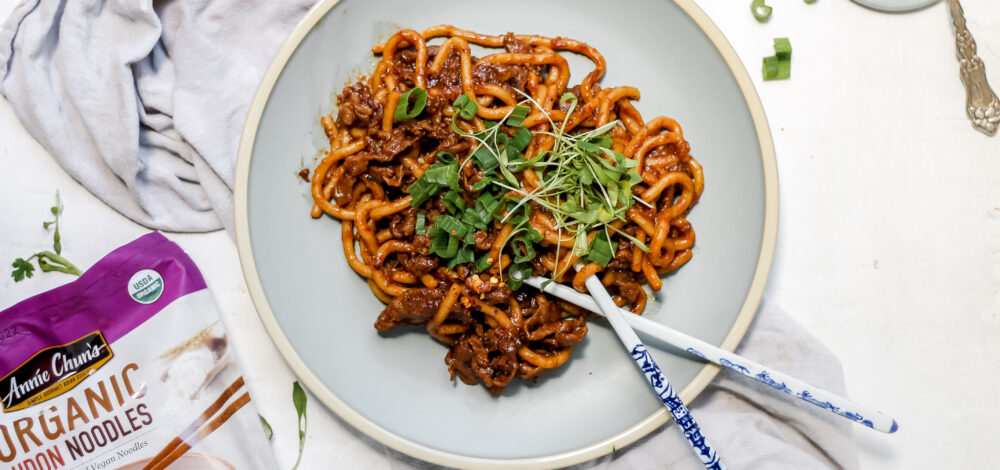 Recipe Serves
1
Minutes Prep
10
Minutes Cook
15
Total Minutes
25
Difficulty: easy
Ingredients
3 tbsp black bean sauce

2 tbsp mirin

1/4 cup water

2 tbsp tamari 

1 tsp sesame oil

1/4 tsp white pepper

1/4 tsp sugar

1 tsp cornstarch + 1 tbsp water, combined

1 packet of Annie Chun's Udon Noodles, boiled for two minutes, then rinsed & set aside 

2 scallions, thinly sliced on a diagonal with whites & greens separated  

1 lb sliced flank steak (optional)

Add in veggies: snow peas, asparagus, shiitake mushrooms, etc. 

Salt, pepper & chili flakes to taste
Method
Combine black bean sauce, mirin, tamari, sesame oil, white pepper, and sugar in a bowl. Slurry in the cornstarch/water mixture and set aside. 
In a large wok or sauté pan over medium-high heat, warm 2 tablespoons avocado oil. Add the white parts of the scallions and brown the beef, seasoning with salt and pepper until nearly cooked through. Set aside. 
Return the pan to medium heat and replenish with oil. Add veggies of your voice and cook until they begin to soften. Then, add in the black bean sauce mixture with ¼ cup of water and simmer until thickened. Toss back in the udon noodles and sliced beef until coated. Garnish with green parts of scallions and chili flakes. Season to taste with salt. 
Heap the stir-fry in bowls, sprinkle with chile flakes, if you want some heat, and serve warm.