Beet Sauce Udon Pasta
This pretty in pink pasta uses a vibrant beet sauce and udon noodles for an extra special meal that's perfect for a romantic and cozy dinner date for two.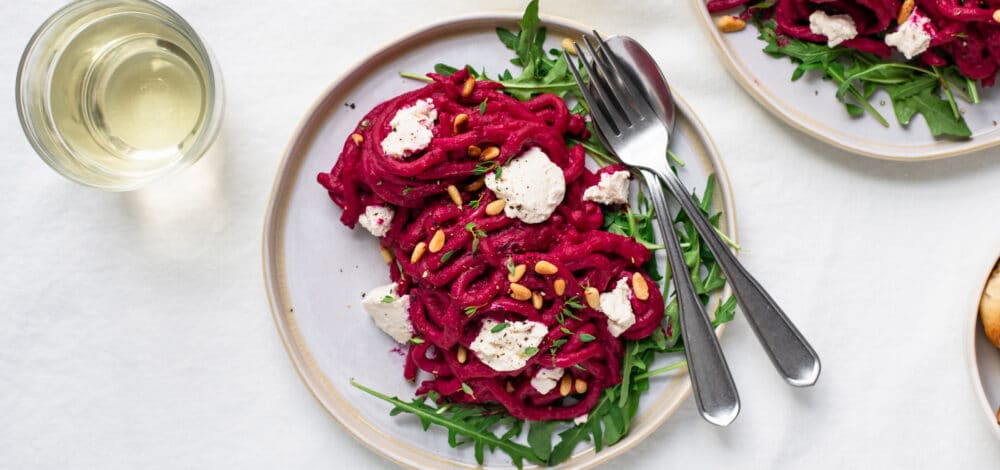 Recipe Serves
4
Minutes Prep
10
Minutes Cook
60
Total Minutes
70
Difficulty: easy
Ingredients
2 medium beets (about 1 pound)
¼ cup extra virgin olive oil, plus extra for roasting beets
¼ cup – ½ cup coconut milk
¼ cup fresh squeezed lemon juice
4 cloves garlic, chopped
1 tablespoon fresh thyme, chopped, more for garnish
Salt and pepper to taste
2 packs Annie Chun's Organic Udon Noodles
4 oz vegan feta or vegan ricotta
2 cups baby arugula
¼ cup toasted pine nuts
Method
Scrub the beets clean, then drizzle with olive oil and salt and rub them to coat. Wrap the beets in individual pieces of foil, then place on a rimmed baking tray and bake for 40-60 minutes, or until the beets are tender when pierced with a knife. Let rest until cool enough to handle.
Peel the beets and cut into large pieces. Add the beets to a blender along with the olive oil, ¼ cup coconut milk, lemon juice, and garlic. Blend until smooth, adding another ¼ cup of coconut milk if needed.
Pour the sauce into a saucepan and bring to a simmer over low heat.
Bring a large pot of water to boil and add the udon noodles. Cook for 2 minutes or until the noodles are tender, then drain the noodles and add them to the sauce.
Add the fresh thyme and salt and pepper to taste. Serve on a bed of baby arugula, and dollop with vegan feta or vegan ricotta cheese. Garnish with toasted pine nuts and fresh thyme.